Brussels, December 17, 2015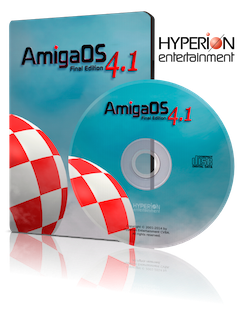 Hyperion Entertainment CVBA is very happy to announce the immediate availability of AmigaOS 4.1 Final Edition for Classic for purchase as digital download.
In close cooperation with Cloanto Italia srl, well known for their Amiga Forever and C64 Forever lines of products, this is the first step and testbed for Hyperion Entertainment towards offering gradually its full line of products as digital downloads in addition to the traditional distribution of physical products through the existing dealer network.
To offer the best possible shopping experience to our customers and following the experience of our partners, Avangate was chosen as fulfillment partner to take care of the whole purchase process in the most secure manner possible and allows to offer several local payment options to customers all over the world.
Customers of the digital download version of AmigaOS 4.1 Final Edition for Classic get an archive containing
ISO9660 image of the installation media,
ADF image of the bootfloppy disk,
PDF of the DVD cover,
PDF of the CD label,
PDF of the booklet and
the serial number in confirmation mail,
which enables them to produce their own backup media including the official artwork*.
After successful completion of the test phase, interested dealers will be welcome to become part of the affiliate network in order to offer the available digital downloads to their respective customers directly on their website.
We all want to use this opportunity to wish you a very merry christmas and a happy new year 2016. 
* reduced quality suitable for home printing equipment