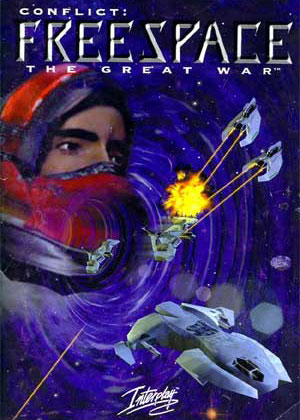 "Freespace - The Great War" is the highly acclaimed space-combat simulator from Volition/Interplay and offers an unparalleled mix of top-notch graphics, plot and game-play.
The plot of Freespace starts off in the 14th year of the war between the Terrans and the Vasudans. Both sides quickly put aside their differences when the technologically superior Shivans join the fray. So technologically advanced are these Shivans that when you first meet them, your weapons can't even target their ships and to make matters worse, they have shield-technology and you don't. At first you have to avoid direct conflicts with the Shivans and instead embark on missions to steal their technology and uncover their secrets. Fortunately, you are not alone and your wingmen are there to back you up. You can take control of all friendly fighters and even call in reinforcements.
Game Features
30 single-player missions in campaign mode
20 multi-player missions
30 real-time rendered ships
Magnificent cut-scenes
Event-driven music system
Multi-player support for up to 12 players LAN and Internet (both TCP/IP)
Unpredecented control over wingmen with high AI
Highly customizable interface
Digital download purchases are handled by 2Checkout as our fulfillment partner.
Technical Requirements - AmigaOS 68k/WarpOS Version
PPC processor or 68060
Graphics-card
3D accelerators supported through Warp3D
Sound cards optionally supported through AHI
64 MB of RAM (min. 48 MB free)
8x CD ROM
Technical Requirements - AmigaOS 4.1 Version
PPC processor
Warp3D/MiniGL compatible graphics card
AHI compatible sound card
64 MB of RAM (min. 48 MB free), 128MB recommended
AmigaOS 4.1 Final Edition